Monster High PJ Pants Pattern
That's a lot of 'P's. Anyway, are you excited by the upcoming Dead Tired releases? Do you want to dress your dolls in PJs because dresses and tights, and hell, even regular pants get uncomfortable after a long school day? Are you too impatient to wait to let your dolls sleep, deal with "that time", or just lounge around on a Saturday morning? Do you also like sewing? Well, have I got something for you!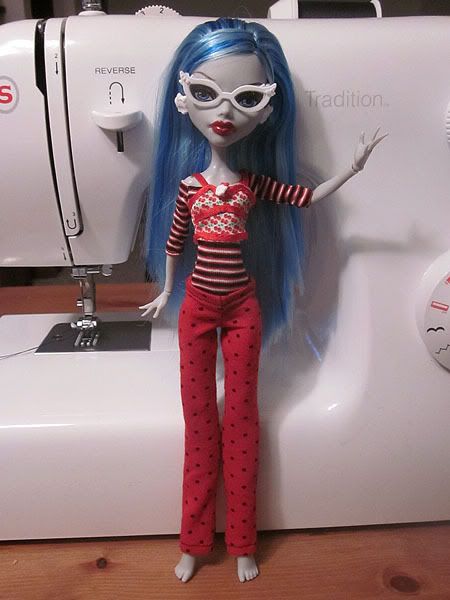 It's a pattern for Monster High doll PJ pants! After several (perhaps seven?) rounds of drafting and tweaking I finally have a pattern I'm happy with and reasonably sure will replicate well, and I wanted to share the love with all the other dolls out there feeling like they need something more comfortable.
Clicking on the picture will (I hope) take you to a link to download the PDF. I'm not entirely sure the printer settings you'll need to print it properly (my printer/scanner/copier is currently functioning only as a scanner), but I've included a scale bar for easy reference.
Some notes:
-It's not a difficult pattern, but there aren't any instructions (would people be interested in tutorials?), so some previous sewing experience is probably necessary.
-USE KNIT! Or something else that stretches similarly. There's no fly and no elastic, so in order to go over the hips the fabric has to stretch.
-Old t-shirts and such are a good way to get appropriate fabrics and interesting patterns.
-The pattern can be easily adjusted for shorts or capris, just cut the legs shorter!
Enjoy! I hope there will be some happy dolls out there that don't have to go to bed in their regular clothes (or nekkid!).